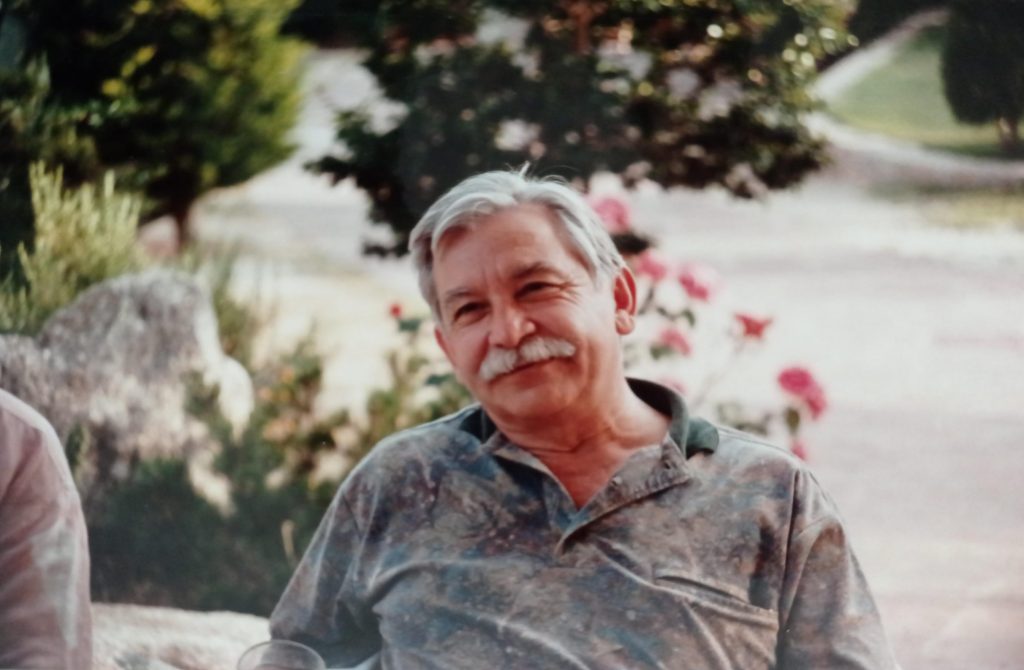 (Sevilla 1936-Tres Cantos 2019)
Carmelo
These Biographical Notes aim to provide the reader with a brief overview of the academic and geographical contexts in which Carmelo Monedero has developed.
Professor of Psychopathology at the Autonomous University of Madrid, psychiatrist, psychologist, philosopher, painter, unrepentant curious and critical spirit in each of the many facets of his life.
He graduated in Medicine and Philosophy at the University of Seville, He received his doctorate in Philosophy, Medicine and Neurology from the Universities of Seville, Complutense of Madrid and Cologne (Germany), respectively. In a few years in which very few Spaniards left to train in other countries, Carmelo carried out research stays at the Universities of the Sorbonne in Paris, Cologne in Germany, Vienna in Austria, the Tavistock Institute and the Maudsley Hospital, both in London in United Kingdom.
Professionally, he was professor of Evolutionary Psychology at the Complutense University of Madrid from the beginning of the specialty of Psychology in 1968 and, years later, professor of the same specialty and of Psychopathology at the Autonomous University of Madrid until his retirement in 2006.
He was also a neuropsychiatrist for Social Security and the Madrid School Medical Inspection. He practiced psychotherapy and psychoanalysis, as well as diagnosis and child psychotherapy.
In both Germany and Austria he became deeply interested in phenomenology, incorporating this perspective into his reflection on psychology and psychiatry.
Highly critical of psychological theories and practices, his contributions were highly valued by some of his students and ignored by the vast majority of his colleagues and peers.
Neither behavioral psychology, disguised as cognitive-behavioral, nor psychiatry dominated by biological approaches, were ever interlocutors with whom to share their work. His last two books "Other psychology" and "Descriptive psychology and empirical psychology" provide a very critical view of experimental psychology and clinical practices. He wanted, from the beginning of his university education, to complement medicine with philosophy. And he maintained this ambitious task for five decades, dreaming of a more human psychology, closer to the concerns of philosophers, writers and artists. He himself sought to be able to express in other languages, painting, some of these concerns about the great questions of life, love, and death.
Like so many others, who saw beyond the time they had to live, Carmelo Monedero felt quite misunderstood throughout his life, but this did not prevent him from critically approaching each of the disciplines and professional practices he cultivated. His ultimate goal was to die in peace. And so it was on March 1, 2019, he died in Tres Cantos (Madrid).
Committed to the 2030 Agenda

Food Assistance to Families
Committed to the 2030 Agenda

Food Assistance to Families